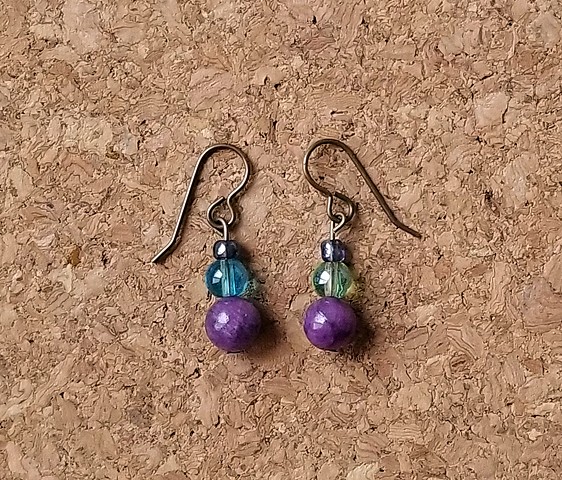 Blueberry Fizz Earrings
purple-dyed quartzite, glass and seed beads with genuine brass ear hooks
3/4" in length
Click here to add to cart and get FREE SHIPPING on your order of $25 or more!
Inspired by the original Willy Wonka & the Chocolate Factory movie, (or if you prefer, the 2005 remake.) Specifically, how Violet turns into a blueberry. How can you say no to these fun bubbly earrings! Or their matching necklace?! Earrings and necklace sold separately
-Each piece is one of a kind, made by me in my studio
-Items are ready to ship in 1-2 business days
-Free shipping for orders over $25
(currently only shipping within the U.S.)
-Jewelry pieces will arrive in a decorative satchel, ready for gifting
-Secure checkout with PayPal
- No returns or exchanges, but please contact me if there is an issue with your purchase
-Please take care of your jewelry by removing it before applying any lotions, perfumes, etc. and storing it properly in a cool dry place
-Please email me at: contactme@holly-campbell.com with any questions you may have. I will respond in a timely manner
-Custom designs are available
-Thank you for visiting my shop!