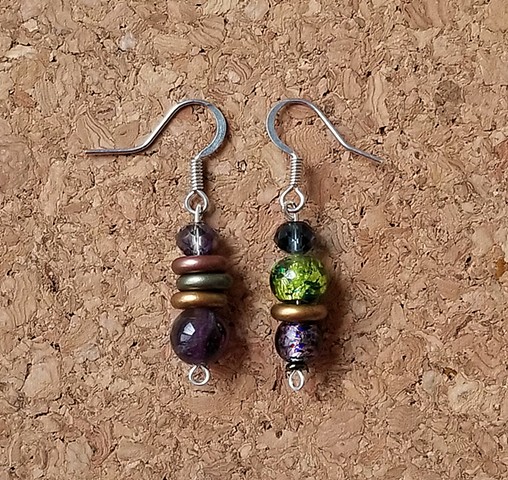 Saturn's Rings Asymmetrical Earrings
glass, Czech glass, metal and amethyst beads with stainless steel ear hooks
1" in length
Click here to add to cart and get FREE SHIPPING on your order of $25 or more!
Asymmetrical perfection inspired by the Rings of Saturn
-Each piece is one of a kind, made by me in my studio
-Items are ready to ship in 1-2 business days
-Free shipping for orders over $25
(currently only shipping within the U.S.)
-Jewelry pieces will arrive in a decorative satchel, ready for gifting
-Secure checkout with PayPal
- No returns or exchanges, but please contact me if there is an issue with your purchase
-Please take care of your jewelry by removing it before applying any lotions, perfumes, etc. and storing it properly in a cool dry place
-Please email me at: contactme@holly-campbell.com with any questions you may have. I will respond in a timely manner
-Custom designs are available
-Thank you for visiting my shop!